Waterscape is a fun, family friendly, 5-star beachfront resort in Ft. Walton Beach, Florida. We are a stone's throw (actually, just over a bridge) from Destin. Amenities at Waterscape are unmatched by any property in this area.

At the center of the resort is an amazing setting of pools which will keep your family occupied for the entirety of your vacation. Water rushes over the top of a walk-through cave for a 10' drop into the property's largest, zero-entry pool. This pool contains water park-like features with waterfalls and spray gadgets, a lily-pad obstacle course, and an Olympic swim lane. When you tire of this, you can float away in the Lazy River (tubes provided), where you will also find spray water gadgets for kids of all ages. There is another pool which is heated seasonally, where the max depth is less than 5 feet. Along the perimeter is an elevated sun-deck where you can bask in the rays of Florida's beautiful sunshine. (This isn't called the sunshine state for nothing!) There is a toddler pool with more waterfalls and a waterslide, where the depth is only 12 inches, making this a great choice for Moms and Dads of the smaller children. Very young children can typically maneuver this pool alone, and if you have kids of this age, you will appreciate the break you can catch while visiting this pool. Waterscape also features two hot-tubs, daily-cleaned gas grills sprinkled throughout the center of the resort, a snack shack (open seasonally) selling lunch, snacks, and drinks of all kinds, and an exercise room with a lovely view of the waterfall and pool. Additionally, Waterscape staffs on-site security 24/7, so you can rest assured you won't be bothered by wild groups of partying teenagers while vacationing with your family.
Check out the resort in this 3D tour!
Move around the resort with your finger/mouse as if you were standing there. The arrows will move you to another room.
Keep reading for my personal tour!
Waterscape is shaped like a U. There are three buildings: A, B, C. I could go into an elaborate description of the building numbers and what each offers (or doesn't), but since a picture is worth a thousand words, just have a look at it. We have pools and amenities on two levels and while it's a little complicated, it's genius. I will give a tour starting from the back (C building), heading towards the beach.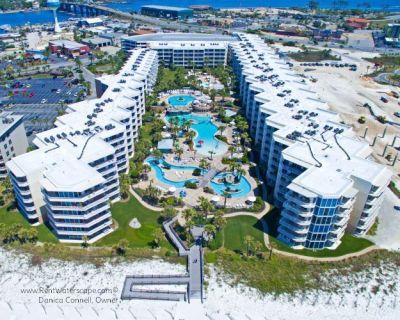 The ground level of the C building, on the lawn, is actually level 2. (A parking deck sets below on level 1.) In front of the C building (only!) is a beautifully manicured lawn where you will usually find kids playing some kind of running game (soccer, football, or tag). Beyond that is the toddler pool and play area. The water is only about 12" deep in this area and there is a waterslide, waterfall, and a few other shooting water climbers in the pool. There is a covered play area as well, where kids of all ages can climb and play with a break from the Florida sun. There are loungers, multiple grills, and many tables with chairs and umbrellas in this area. It's a great place to cook dinner, and eat it, while the small kids play.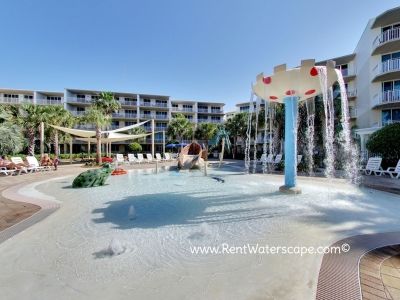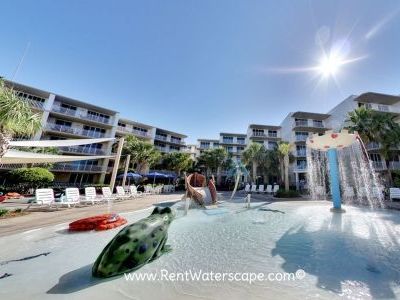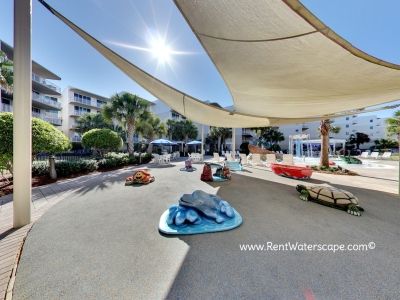 South of this pool is the heated pool. It's only heated in the cool months (of course, since heating isn't required in the summer time). This pool is about the same level all the way across, ranging from about 4' deep to 5' deep. It has an island in the middle. Loungers surround this pool, but not grills.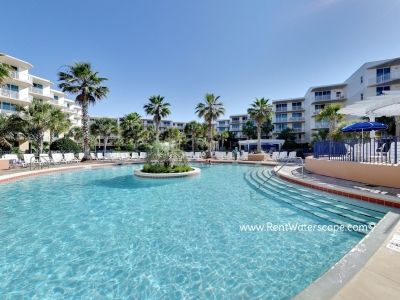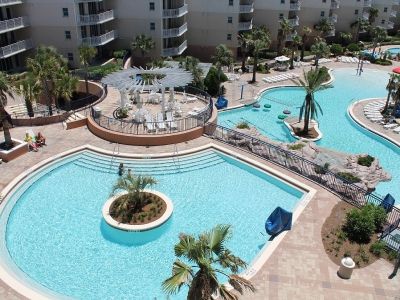 There is an elevated sundeck that surrounds one side of this pool. There you will find a peaceful sanctuary for adults. You'll find loungers and tables with chairs and umbrellas. Kids are welcome on the pool deck but most find it incredibly boring so this is where you can sit with a few less distractions.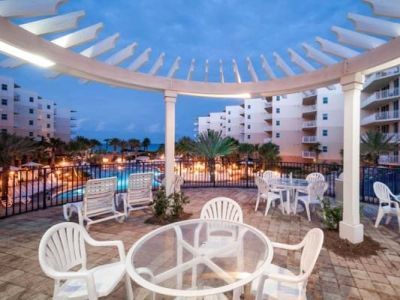 Beyond this area is a set of stairs which takes you down to level 1.

At the bottom of the stairs is the gym, which overlooks the largest pool and waterfall. It's a beautiful view while you work out. To the left of the gym is a set of public restrooms that includes showers. To the right of the gym is the cave, which is a walk-thru behind the waterfall. Arrive on the other side and you'll find another set of public restrooms with showers, and also elevators if stairs aren't your thing.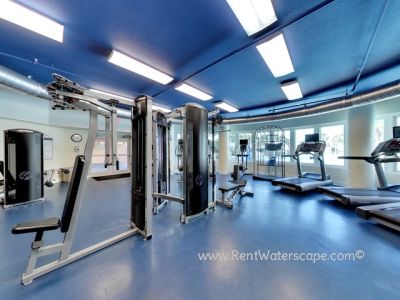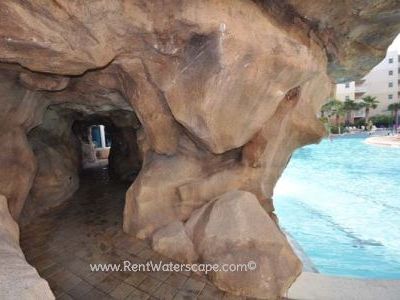 We have two hot tubs on level 1; one is square and one is round.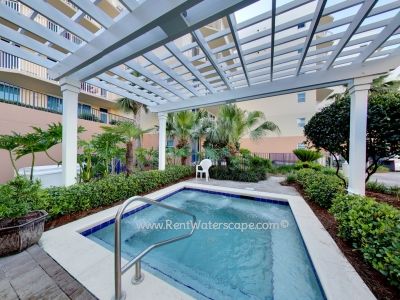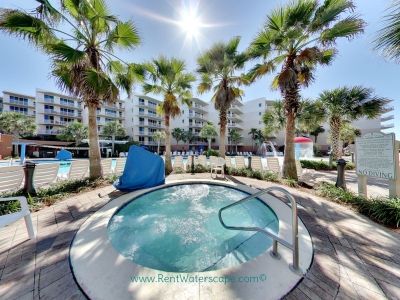 The largest pool, which is a zero-entry pool, is on this level and it is amazing. It includes an Olympic swim lane, a lilypad watercourse, the huge waterfall, and plenty of water gadgets with more waterfalls—and this is fun because all the valves are at the kids levels so they can actually turn them on or off as well as control the pressure. This pool is surrounded by tons of loungers and grills as well as more tables with umbrellas and chairs.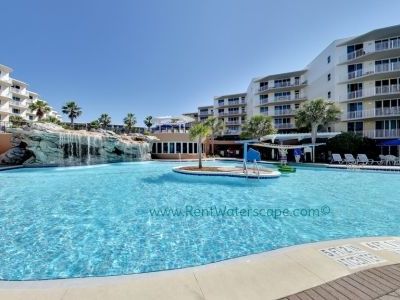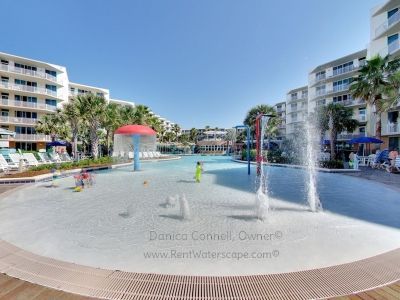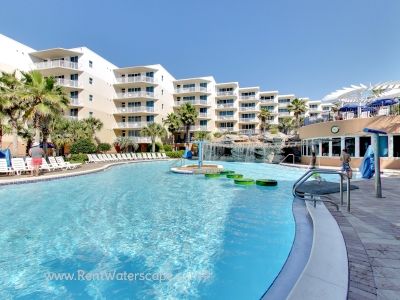 The snack shack is located beside this pool. There, you can buy lunch, snacks, drinks, and a few frozen cocktails.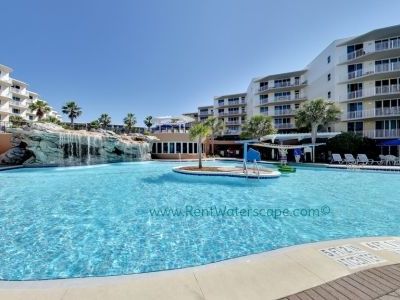 South of this is the lazy river where you can float or swim all day long! Loungers, grills, and tables with chairs also surround this area. Tubes are provided, but personal floats are not allowed.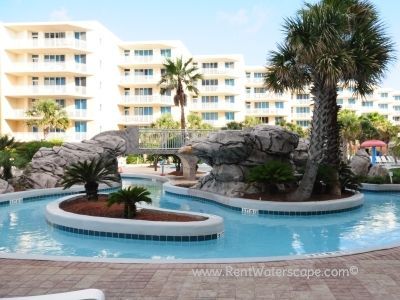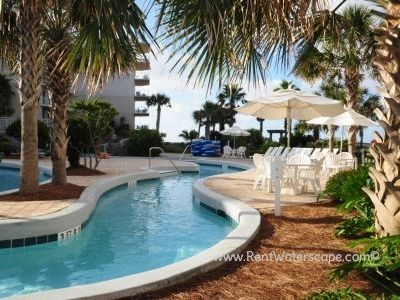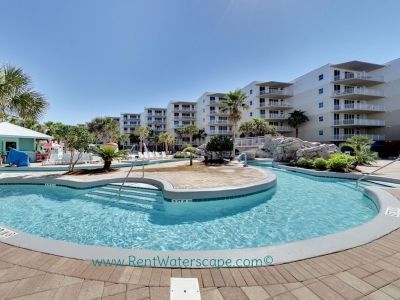 South of this area is the BEACH! You'll find a wonderful washing deck, a handicap ramp, a stair ramp, a shoe board, and a boardwalk. Cross the boardwalk and be ready for a view that will take your breath away!!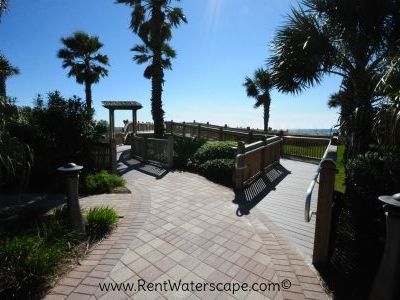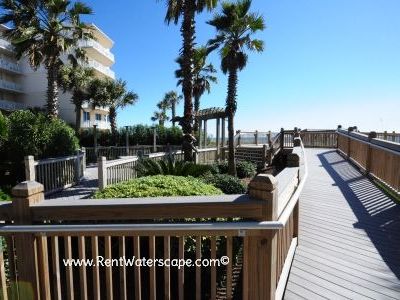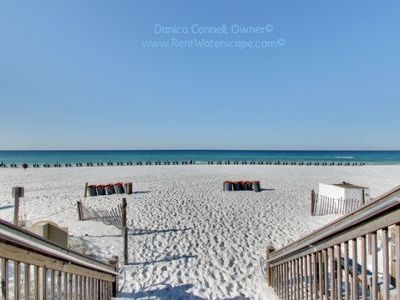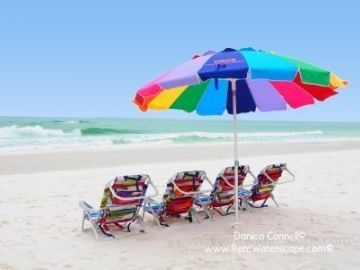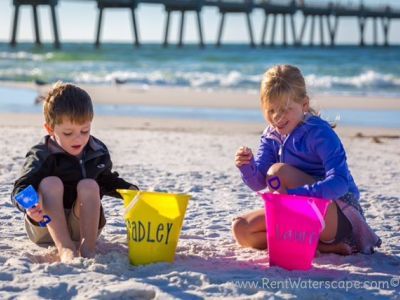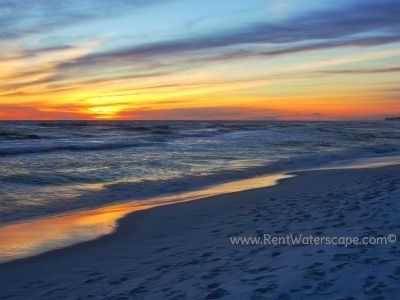 Waterscape has 24/7 onsite security. This is huge! We have rules. All properties have rules. The difference? We enforce ours. Waterscape is the only complex in this area with these kinds of amenities beachfront. You can imagine we have a lot of wanna-be-trespassers. Those of you that have paid to stay at our resort ought not have to lose a seat to someone who walked in from the beach or the Hampton Inn across the street. To combat this, property bracelets are required and if you aren't wearing one you will be asked to get it or leave (so just go ahead and put it on when you arrive). Security ensures that Waterscape remains a family-type atmosphere. Also, they are great to answer any questions that you might have!
There are some other rules for the complex. I'll give you all the pertinent info and secrets during the booking process.
Stay in one of my units!