I wish you a warm welcome to Okaloosa Island. While we are technically in Ft. Walton Beach, many people call this Destin. Either way, there are so many fun things to do around our wonderful beach town. This Destin Bucket List Challenge is about getting you out to explore some things you may not otherwise, and you will earn a giftcard for your next Waterscape visit at the end of the challenge! The giftcard will likely save you the money it costs to do the activities--so you can almost look at it as getting to experience some Destin activites for FREE!! The challenge is open to ALL Destin visitors, even if you are not a Waterscape Rentals by Owner guest.
Ready to have some fun?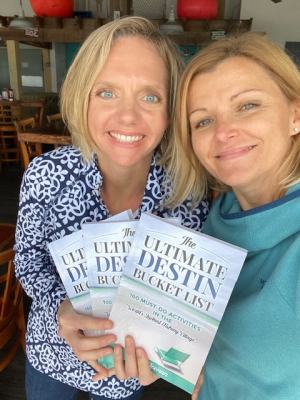 Look for the book!
This is a picture of myself (Danica, left) and Destin author and blogger Sarah Noonan. Sarah wrote this fun little book which is full of the best things to do around Destin and Okaloosa Island. It includes some history as well as things that both visitors and locals alike love about the area. All of my condos have this book. Your first job is to locate it. (If it's missing please let me know.)

Look for "The Challenge"
Each week I am going to post on my condo facebook page "The Destin Bucket List Challenge," which will typically include three things around town that you should complete. Occasionally I will throw in an item that isn't in the book, because let's face it, there is just more to do in our area than can be covered in one book, and the list is always changing. If I stray from the book, it will be something that I have for sure enjoyed myself!

You will need to find my facebook page and then look for the weekly Challenge. Search facebook for "Waterscape Rentals by Owner" and you should see this cute beach girl, who is the face of my business. (And while you're there, give the page a LIKE to keep in touch.)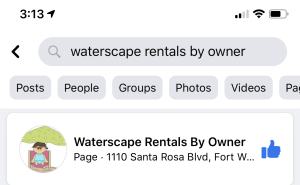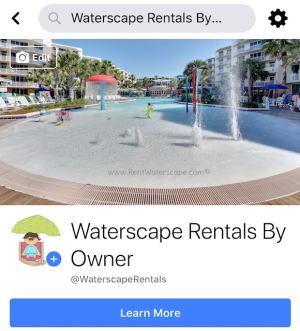 Once you have found the page, scroll down until you see the current challenge. How far you have to scroll may depend on how many posts I have made that week.
Complete The Challenge
Once you have found "The Challenge," you have the length of your vacation to go forth and do your thing! The purpose of this is purely to HAVE FUN so be sure to keep that at the top of your priority list. Take some awesome pictures that you won't mind sharing to Facebook. I would LOVE to see your favorite pictures in the comments of the challenge post on MY condo page as you go. Nothing brightens my day more than knowing my guests are having fun in my favorite place in the world. ❤️
Tag me in your pictures on Facebook
Once you have completed the items in The Challenge, make a new post on YOUR facebook page and tag @WaterscapeRentals in the post. Please set your post to "public" so I can see it...it's fine for you to delete it later. The idea here is to spread the love and share the fun. To properly tag my condo page, you type the @ sign, followed immediately by "WaterscapeRentals" and my page should pop up. Click on it, and it's tagged. This will send me a notification, which is your path to the completion of the challenge and the giftcard for your next visit! I will contact you when I see the notification (or you can contact me and let me know you're all done).
You can follow Sarah's amazing Destin blog at
The Good Life Destin
You can follow me at
RentWaterscape.com
and on Facebook at
@WaterscapeRentals.